How to install an app from the Google Play™ Store
From fitness and productivity to cooking and games, there are thousands of apps you can download to customize your phone.
To download a new app:
Go the Google Play™ Store – you'll find it under All Apps
Once the Google Play™ Store is open, type the name of the app you'd like to download in the search bar at the top. The app should appear in the search results
Tap on the app you'd like to download. If it's a free app, you can simply tap the green Install button
You'll see a prompt that lets you know what types of files or data this app will access. If you're comfortable with it, tap on "Accept" and the app will start installing.
In Android 5.1, the first time you open an app you will also see a rating from Fairphone's Privacy Impact feature. This gives apps a score based on the amount and type of data that the app can access on your phone.
To start using the app, just tap "Start the app"! If you're concerned that this app will have an unnecessary impact on your privacy, tap "Take me back". For more information about Privacy Impact, have a look at our recent blog on Fairphone 2 software features.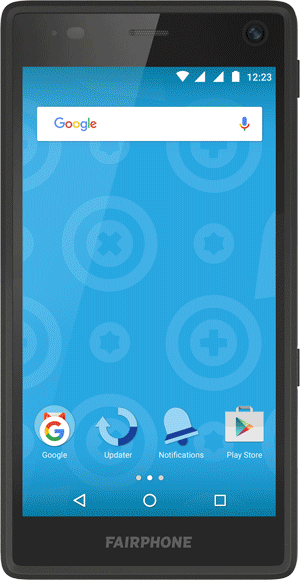 If there is a charge for the app, it requires an extra step to download. Instead of the Install button, you'll see the price. If you're happy to pay, tap on the price button. You'll now see a prompt that tells you what files or data this app can access. If this is your first time downloading a paid app, after you click Accept, you can select how you wish to pay: by credit or debit card, PayPal or a redeem code.